Ape Action Africa stands on the front lines of primate conservation in the rainforest of Cameroon, one of the last places on earth where gorillas and chimpanzees still exist in the wild, despite continued illegal hunting.

More than 350 orphans have been rescued, have recovered and now lead lives of safety in our care.

​You can give safe haven and gentle comfort to innocent victims of the cruel meat and pet trades. Stand with us.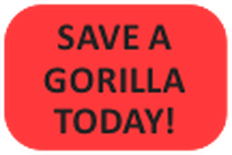 Site powered by Weebly. Managed by
iPage